LEHRTE, GERMANY, 3. December 2020
Dear Customers, Partners, Friends and Colleagues,
As we head towards the close of the year, we wanted to make contact again to update you on our news as well reflect on the events of 2020, while also glimpsing towards 2021.
And what a year it's been. Who could have predicted how the world would change, but change it has. All of us have had to adapt our social and working lives to meet the impact of the pandemic and measures to control it.
For us, this meant big challenges in rolling out our beta program. But thanks to some incredible customers, partners and colleagues, we have succeeded in installing six EcoLeaf Metallization Units on several machine platforms in different European Countries – and with more to come before the year closes. An incredible achievement and our sincere thanks to all of those involved!
Beta Program – Six Installs and Counting
As a reminder, we kicked-off the beta program with the installation of an EcoLeaf™ unit at German print specialist, Kolbe-Coloco Spezialdruck GmbH. Thanks to the great team and their flexibility at Kolbe-Coloco, this went really well. What's more, I must also say that all the lessons we learnt with them were both useful and incredibly rewarding for our team.
ABG Makes it's First Worldwide Sale to Vollherbst
In May this year, we also announced a global partnership with leading print finishing expert, A B Graphic International (ABG). Within the new agreement, ABG is now responsible for direct sales, marketing and customer service for EcoLeaf – starting first in the European Union and the UK. In July, we were also delighted to share the news that ABG had sold its first EcoLeaf unit to one of Germany's leading labels printers, VollherbstDruck GmbH, who boldly predicted ROI from our technology in only six months. We continue to be excited about our partnership with ABG and the roll-out of EcoLeaf during the coming months and years.
First EcoLeaf Commercial Job in Circulation
Within this early period of our beta program, we were also excited to learn that the first commercial job had already been printed on an EcoLeaf unit by one of our customers. This was far sooner than expected and gave our team a huge boost, not only demonstrating how far we had come, but also how quickly an EcoLeaf unit could be brought online producing saleable print quality.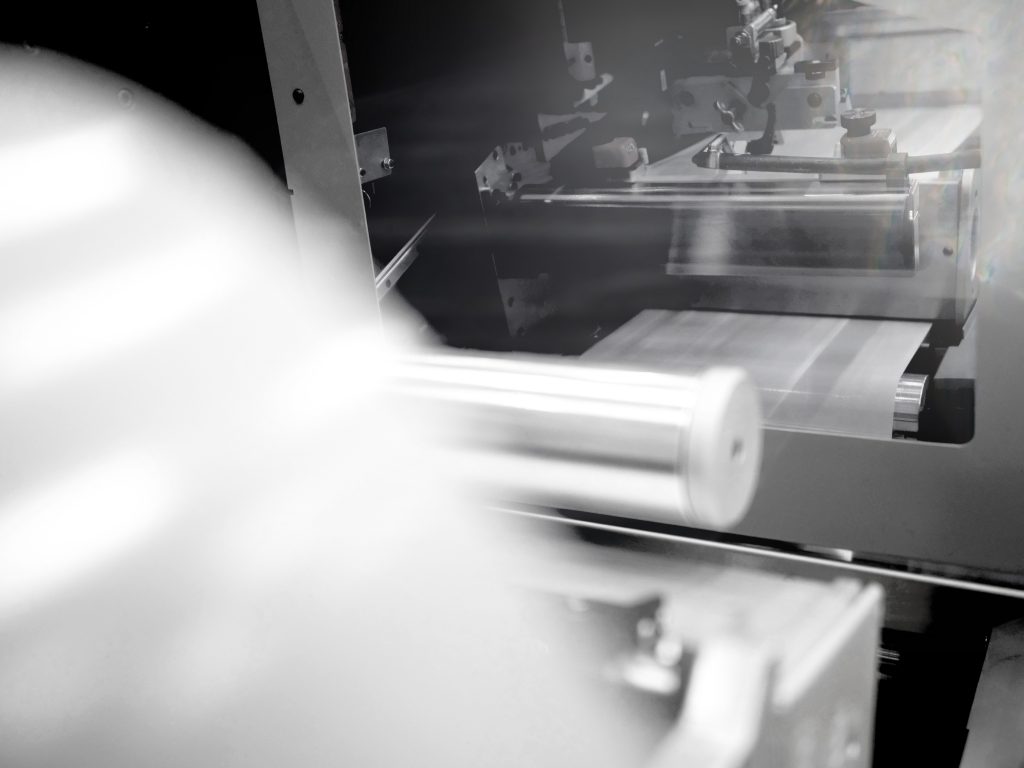 Barthel and Germark Join the Beta Program
In September, we were pleased to announce that Barthel Gruppe, one of the largest labels printers in Germany and the Netherlands, had joined our beta program with the world's first installation of EcoLeaf on a digital and flexo hybrid press – a landmark moment for us. A month later, we were also proud to announce that GERMARK, a leading high-quality label printer in Spain, had installed EcoLeaf at its Barcelona facility, where the customer cited EcoLeaf as one of the key differentiators in enabling it to win future local as well as export business.
Getting Ready for Commercialization – Training
In between installing beta units, we have also been busy in getting the business ready for commercialization. To achieve that, we have implemented a comprehensive training program for our Sales Organization, as well as partners and other business functions including the Coatings experts from ACTEGA and the ABG EU Sales Team. This continues to go well, and we expect it to not only allow us to grow our teams with good continuity and professionalism, but to also safeguard customer service excellence in all key regions in the future.
Non-Silver Solutions and Indirect Food Compliant Trigger Images
And we haven't been idle in product development either. We are pleased to confirm that we've made dramatic progress in application development, substrate qualification and embedding of EcoLeaf into the combination printing environment. We will share more information about this in our next issue.
In addition, we are also in the final development stages of food compliant trigger images too, as well as further refining EcoLeaf Digital and the options to overprint EcoLeaf (e.g. gold). As mentioned in our previous newsletter, EcoLeaf Digital provides ultimate production flexibility, by being able to be installed into any conventional, hybrid or digital printing equipment. As a reminder, we have our first Ecoleaf Digital system set-up on an AB Graphic web transport system in our Competence Centre in Lehrte – so if you are interested in seeing it in operation – we can provide a presentation via a virtual live stream. Just get in touch.
First EcoLeaf Beer Label
Originally planned for visitors to our booth at Drupa 2020, we also wanted to show you the first EcoLeaf beer label produced for a special Bavarian Draft Beer from Lake Starnberg. I hope that you agree that the label looks great. I can also confirm that this special beer tastes superb too – we look forward to sharing one with you at Lehrte or when live events return.
Technical Details:
Substrate Sappi Labelcar MT
Production: Gallus RCS with speed 75 m/min
Metallization: EcoLeaf with Haptic
Haptic: Produced with a rotary screen and EcoLeaf Trigger Image with 14micron
Over Print Varnish: ACTEGA Schmid Rhyner – Wessco LM UV-Lack

All in all, what a productive year! As we head into 2021, we do so with some considerable optimism. Of course, the year ahead is still unclear for us as it is for you, but our plan to install commercial EcoLeaf Units in the European Printing Market by mid-2021 is still on target, and in the meantime, we continue with prospect qualification and funnel building. If you are interested in EcoLeaf and would like to know more, please do make contact.
On behalf of everyone here at ACTEGA Metal Print, we wish you very safe and Happy Holidays!
With best regards,
Kind regards
Jan Franz Allerkamp
CEO