LEHRTE, GERMANY, 28. February 2022
Lehrte, February, 2022 – Consumers, leaders in government, converters, and brands are undoubtedly, and rightly, putting sustainability at the top of their agendas. As such, the market is watching intently for new solutions that can effect real change where sustainability is concerned, whilst also delivering on the quality standards set by existing technologies. One such solution that certainly has all eyes on it is ACTEGA's ECOLEAF metallic decoration technology. By making the switch from hot or cold foil to this breakthrough metallisation technology, brands and converters can eliminate foil waste as well as improve the recyclability of the finished label or packaging.
With the advancement of ECOLEAF at such an exciting and poignant time, there is one industry heavyweight that has not only been monitoring its progress, but decided he wanted to play an active role in its story and join the team that is bringing this ground-breaking technology to market. Stephan Plenz is an industry veteran and packaging expert with over 30 years' experience working for print giant Heidelberg. Plenz became ACTEGA Metal Print's interim General Manager in October 2021 and, after several months in this role, we spoke to him about his formula for success, his vision for the industry's future and why he thinks sustainable metallization is set to revolutionize luxury labels and packaging.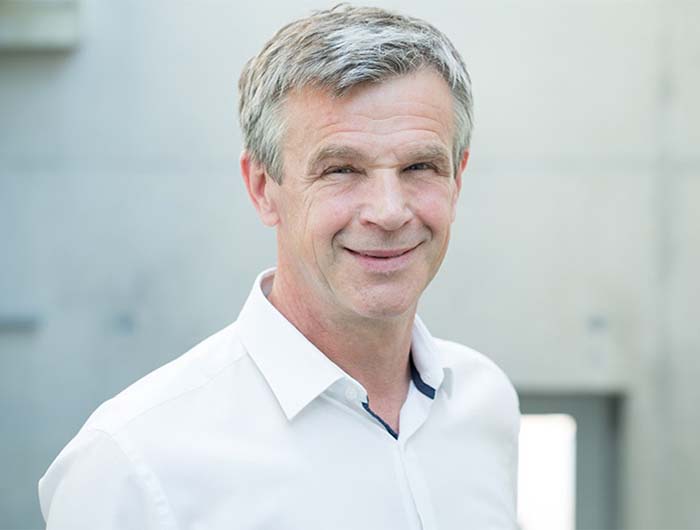 What is it about the ECOLEAF technology that led you to take the position of General Manager for ACTEGA Metal Print?
Sustainability has always been close to my heart, and we all know that environmental pressures are coming to a head. Regulations are ramping up in almost every area of business and the shift towards greener solutions is no longer optional, it's critical if manufacturers, converters and brands want to thrive, or even survive long-term, in this industry. What truly fascinates me, however, are those market players who are going beyond just settling for acquiring a green tick by their name and striving for innovative, creative solutions that lead to real, quantifiable environmental benefits. ACTEGA is doing exactly that with its ECOLEAF technology. Rather than looking at how they could just tweak the foiling process to reduce waste, they reinvented it completely, eliminating the need for foil altogether. The implications of this, and the market potential, are huge, and it's exciting to be a part of a journey that's making a significant real-world difference.
In driving ECOLEAF forward, what are the key strengths and synergies that you bring from your previous roles?
More than 25 years of my career have been spent in leading positions in the Graphic Arts Industry, working at the interface between technology, innovation and product development, bringing products from concept through development and testing to real-life market success. When you combine this with visits to over 1000 customers and experience working in a multitude of different team environments, it gives you a unique perspective on what is needed for a product to thrive on the market. At its essence, I believe that having a great product that solves a problem for the industry, and having a dynamic, flourishing organizational environment, are two of the two key pillars for success. For ACTEGA, they already have these foundations in place, with both a highly skilled and passionate team and a cutting-edge, truly disruptive solution in ECOLEAF. The next stage of this journey is nurturing and building on these elements, supporting the team in their development and ramping up the product to industrial level so that we can share its economic and environmental benefits on a much greater scale across the worldwide market.
Could you provide an update on where this technology is today?
We now have six beta units installed and working in the field, with the figures projected at around 20 by the end of this year. We are seeing incredible feedback across the board, with some existing customers already talking about installing a second or third unit. It's a very promising start. We know the market potential for sustainable metallization is vast; we are working within the context of an increasingly competitive landscape, where a need for brand differentiation is at an all-time high, whilst also hearing a deafening and unavoidable demand for sustainable products. All of this culminates in an ideal climate for ECOLEAF to flourish on the market, enabling the production of stand-out metallic embellishments with a solid environmental profile.
How does ECOLEAF compare to current solutions on the market, in terms of sustainability?
The environmental credentials for ECOLEAF are impressive. Our initial calculations suggest that ECOLEAF realizes a CO2 footprint reduction of greater than 50 percent compared to cold and hot foil. Not only does the system completely eradicate the need for foil, but also only involves the precise amount of metal needed for each application, eliminating pigment waste too, as well as the need for any carrier film. When you look at this in a wider context, the benefits become even clearer. Every 1kg of ECOLEAF flakes effectively replaces 3000kg of foil, which in turn eliminates 20 tonnes of CO2e: the equivalent of planting around 833 trees. The potential environmental impact of this technology, once ramped up and put into operation at scale, paints a very hopeful picture for the future of print and packaging embellishments.

In your opinion, how important are solutions like ECOLEAF for the sustainability of print and packaging? Should the industry do more?
We are undoubtedly beyond the point at which sustainability can be an added extra for businesses to opt into; it is now a disruptive force for change that is defining the direction that the industry moves in. There is no longer a question as to whether the industry should do more; the fact is that we must do more – both from a business perspective if we want to be a part of the industry's future, and as a matter of shared responsibility for our environment.
What new information can you share with us about ECOLEAF's commercialization or technical advances? Or could you hint at what updates we should expect to hear in 2022?
ACTEGA's approach has been very much steeped in science and research, meaning that as a product, ECOLEAF has benefited from a host of improvements and enhancements as it has moved through development and testing to its current point of market readiness – particularly since it was last showcased to the industry at Drupa 2016, where most people have seen it for the first time. We have been able to hone the technology to maximize key elements such as user-friendliness and flexibility, now delivering the same impressive results across flexo, digital and screen printing, as well as both inline or as part of the finishing line.
ECOLEAF will be one of the highlights at this year's Labelexpo Europe show, could you tell us why you think visitors should come and see this technology for themselves?
As I mentioned, there have been a whole host of developments since most industry professionals would have last been able to see this technology first-hand at any tradeshow. For the first time, we are ready for the market to dive into this transformational technology and begin tapping into its full potential. We are excited to finally be able to showcase what ECOLEAF can do and how brands and packagers can benefit from it and, importantly, to support people make in making the switch from traditional foiling.
Could you summarize your vision for ECOLEAF under your leadership? And since you joined, has this changed? What's next for the brand and product itself?
Our mission is very clear, we want ECOLEAF to be a standard for metallization in print. We are bringing to market a sustainable technology that achieves market-leading quality whilst substantially reducing the amount of material, waste, cost and production time required. So, it's not overambitious to believe that it will be revolutionary in how we approach embellishments in the future. Everything we do here, the driving force behind our business decisions, our daily work and even our team structure, is all centered around bringing this joint vision into fruition: for brand owners to trust ECOLEAF as their go-to solution for sustainable embellishments.
Any additional thoughts about the industry in general and the steps brands, printers and converters should take this year and beyond to drive business success?
Above all, we work in a fantastic, innovative and exciting industry, with a multitude of opportunities for success, which can often be overlooked amongst some of the wider challenges and conversations in the media. The indisputable key to achieving industry-wide success over the next five years will be in achieving true sustainability at a fully-industrialized level across the board, and I wholeheartedly believe we have the science and engineering capabilities to achieve that. The technology is here, our job now is to get it into people's hands and empower them to make more sustainable choices. Let us make the world a little bluer.
ACTEGA Metal Print